The Retic count test in simple terms refers to reticulocyte count test. Doctors recommend for retic count test to detect if they suspect any blood related ailment such as hemolytic anemia, a condition where red blood cells gets destroyed faster than they are generated. The body constantly makes new red blood cells which are known as reticulocytes. They are made by bone marrow, which is a spongy tissue present inside the bones.
Doctors in order to confirm the proper functioning of bone marrow, through blood evaluations calculate the number of reticulocytes present. Normally, reticulocytes make up about 0.5% to 1.5% of red blood cells.
How is reticulocyte test conducted?
Reticulocyte test is conducted just like any other blood tests. The laboratory professional draws blood from veins through an injection.
Previously, doctors used to put a single drop of blood on a microscope slide and manually count reticulocytes themselves. Today, automated analyzers like Cellenium 5D Retic calculate the results of nearly all reticulocyte count tests.
Why is retic count test recommended?
A retic count test is often recommended over the suspicion of anemia, which is caused when the body fails to generate enough blood cells. A retic count test is often followed up with a complete blood count (CBC) to confirm the diagnosis of anemia.
Anemia can be of different types. If the complete blood count suggests anemia, a reticulocyte count is one of the several tests that can help your doctor identify which type:
Aplastic anemia: In this, the reticulocyte count gets low which is a reflective of the fact that bone marrow isn't making red blood cells at the required rate
Hemolytic anemia: In a hemolytic anemia, the reticulocyte count remains high, however RBCs in this case get destroyed before their normal lifespan
Iron deficiency anemia: This type of anemia happens when the body does not have enough iron to make required blood cells. This condition also leads to a low reticulocyte count.
Pernicious anemia: When the body doesn't get enough vitamin B12, low reticulocyte count is detected.
Other Reasons for Retic count Test
In addition to the above mentioned factors, a retic count test is also recommended for patients with sickle cell disease. In this disease, the RBCs transforms in the shape of a sickle (crescent), instead of being round.
Further to this, Retic count tests are greatly useful in:
Cancer treatment – Chemotherapy or radiotherapy
Bone marrow transplant
Other blood related conditions or procedures
What we Offer:
Cellenium 5D Retic – 5 Part Hematology Analyzer with Retic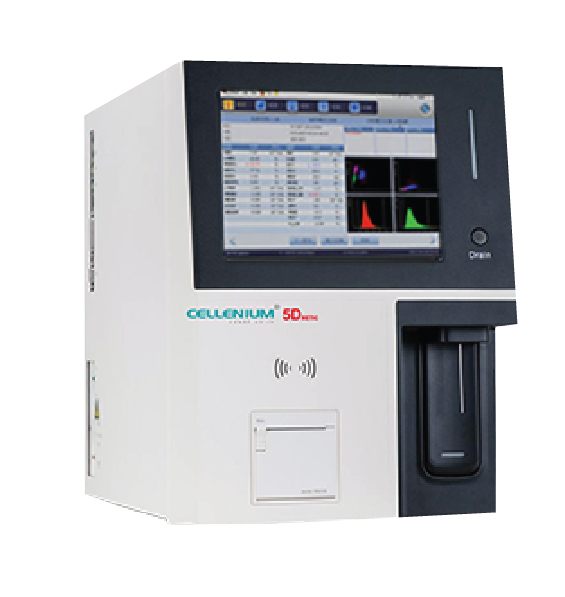 Throughput of 60 tests / hour
34 parameters including NRBC,IRF with 2 histograms and 2 scattergrams
10″ touch screen display
Separate Retic Tube with 2 years Shelf life
Clog Detection and Aperture Burning
2,00,000 sample data storage with histograms and Scattergrams
Effective reagent inventory management with on-board reagent status
Accurate cell detection through multi-angle laser based flow cytometry