Historically, histology and anatomic pathology have been slow to accept many of the process changes that have been widely accepted in most clinical laboratories. Over the past 10 years, histopathology laboratories have achieved impressive results by utilizing Sakura products and services.
To further support laboratories, Sakura offers the SMART Automation product line, designed and engineered to maximize the productivity of a laboratory. SMART Automation is the next logical step in enhancing your laboratory's performance and optimizing your all-round productivity, helping you to report improved turnaround time using the same resources.
Challenges Faced in Histopathology Laboratories
High workload
Short turnaround time
Rising cost pressure
Additional safety requirements
Increased quality requirements
Competitive work environment
Shortage of skilled staff
What Sakura SMART Automation Offers
Below are some impressive results that numerous histopathology laboratories have achieved with the use of Sakura SMART Solutions over a period spanning 10 years:
Optimized laboratory leading to increased productivity, thus resulting in reports with improved turnaround time using the same resources.
Maximized productivity with a continuous and standardized workflow achieved through SMART Automation.
Consistent high-quality operations for all tissue samples.
Faster diagnosis of cancer allowing for investment in the future, whilst utilizing the same instruments that cope with the growing workloads.
Easy implementation of LEAN principles for improving quality, patient safety, and workflow in Histology and Anatomic Pathology by using reagents free of Xylene and Formalin for tissue processing.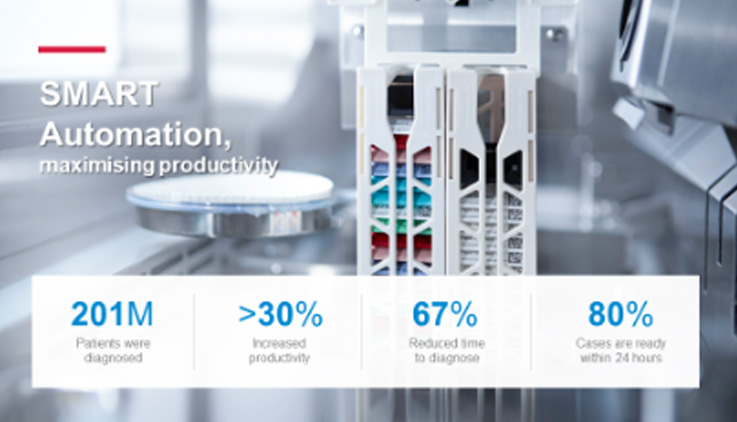 List of Sakura SMART Automation Products
1.Tissue-TekXpress® x120 – A continuous and rapid tissue processor
2.Tissue-TekAutoTEC®a120 – Synonymous with real Automation in Tissue Embedding
3.Tissue-TekAutoSection® – A fully Automated Microtome with AutoAlign, AutoTrim™, and Autosection technology
4.Tissue-TekPrisma®Plus & Tissue-TekFilm® – A true walk away, integrated gold standard Stainer and Coverslipper system
5.VisionTek® – A live, IVD certified digital microscope with scanning capabilities
Reference Site Located in India
The first complete Sakura SMART Automation system was installed at MVR Cancer Centre, Kozhikode, Kerala. This state-of-the-art SMART lab was inaugurated by K.KShailaja Teacher– sitting Health Minister of Kerala State Government.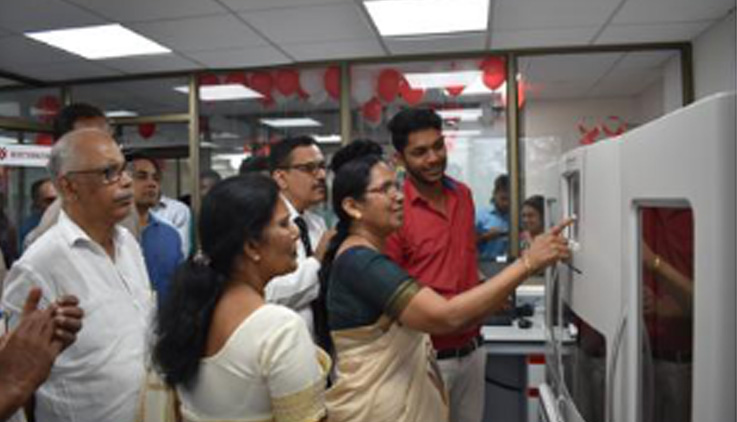 FAQ's
1) Do I need to purchase all the instruments?
All these instruments can be purchased together, or you may pick and choose based on your needs.
2) Do these instruments comply with regulatory and safety standards?
Yes, all these products are USFDA and CE certified and in compliance with international safety standards.
3) What is the country of origin of all these instruments?
All the Sakura SMART Automation products listed above are manufactured at Sakura FineTek Japan Co., Ltd.
4) Can these instruments be used 24×7 with continuous operations to meet the demands of increasing workflow?
Yes, these instruments are real "workhorses" and adapt efficiently to the growing needs in any Histology laboratory.
5) Will the Tissue-TekXpress® tissue processor accept the continuous loading of specimens once processing has begun?
Yes, up to 40 cassettes can be loaded every 20 minutes.
6) Do I need to program the cassette types for different tissues?
Because the Sakura AutoTEC is SMART, it can distinguish the type of cassettes needed to prepare a standardized FFPE block.
7) How is Tissue-TekAutoSection® different from other motorized microtomes?
Its pre-programmed protocols and AutoAlign technology make the Sakura AutoSection a unique microtome that yields high-quality sections time after time.
8) Can Tissue-TekPrisma®Plus Stainer be used for PAP smears and H&E staining?
Yes, Prisma is designed for use with applications like H&E, special stains, and PAP staining protocols.
9) Does Tissue-TekFilm®Coverslipper work for Cytology and IHC slides?
Yes, Film Coverslipper can be used for Cytology and IHC slides without interrupting the H&E staining process.
10) Does VisionTek require special software to operate remotely?
An internet connection with remote PC software is sufficient to control your Sakura VisionTek remotely.
For any further clarifications or queries, please do not hesitate to get in touch with us through our 24×7 Customer support number: +9198400 80008 or send us an email: pradeep.kasthuri@trivitron.com or groupmarketing@trivitron.com.