Introduction
The cells are the building blocks of all living things. Group of these cells unites to perform a specific function. These groups of cells are called tissues. The microscopic study of cells in a smear is called Cytology and the study of tissue is called Histology.
Histology
Histology is a department of anatomy that deals with microscopic study of anatomy of cells and tissues of plants and animals. It is performed by examining of thin slice (section) of tissue under a light microscope or electron microscope. The ability to visualize or differentially identify microscopic structures is frequently enhanced through the use of histological stains. Histology is an essential tool of biology and medicine.
Histopathology
Histopathology is the microscopic study of diseased tissues. It is one of the important tools in anatomy and pathology for the accurate diagnosis of cancer and other diseases.
Steps in Histopathology
A specimen brought to the histopathology laboratory must first be logged, identified and then subjected to specimen preparation prior to tissue processing. The various steps are:
Sample collection
Logging of specimen
Preparation of tissues which include fixation and decalcification
Processing of tissues which include dehydration, clearing, paraffin impregnation.
Tissue embedding
Preparation of sections which include process of microtomy, attachment of sections to slide and removal of pigments and precipitates
Staining and mounting procedure which includes dewaxing, hydration, staining dehydration, clearing and mounting.
Trivitron, on a global mission of making healthcare affordable and accessible lays emphasis on providing cost effective and quality solution for cancer diagnosis. As an extension to this commitment, Trivitron being an authorized distributor of Sakura Finetek, Japanese based medical technology company known for best in class automation and reliability in the segment of Histopathology, brings wide range of quality Histopathology equipment and consumables.
Tissue processing – Histo-Tek® VP1®
Histo-Tek® VP1®, a fully enclosed tissue processor which performs series of tissue processing steps including fixation, dehydration, defatting and paraffin infiltration in a single retort. With features li ke 300 cassettes capacity, 10 user editable programs, delayed start, self-maintenance – cleaning cycle, reagent management system makes it ideal for any histopathology lab with the workload of 100 blocks per day.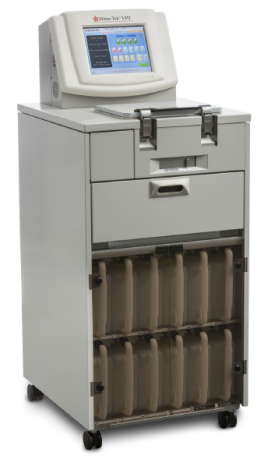 Tissue Embedding – Tissue-Tek® TEC™ 6
Tissue-Tek® TEC™ 6, the latest Embedding and Cryo Module in the market is intended to embed processed human or animal tissue in paraffin. Tissue-Tek® TEC™ 6, designed to be the ideal conventional tissue embedder for laboratories of any size, the robust and ergonomic modular system offers few notable features like auto "ON" / "OFF" timings, GUI interface, adjustable LED lighting, anti-glare work surface and software driven forceps clean mode.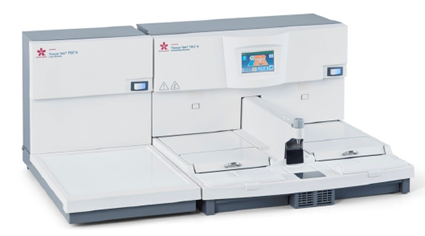 Microtomy – Tissue-Tek AutoSection®
Tissue-Tek AutoSection® – the only fully automated Microtome in the world. The cutting edge technology addresses today's challenges of quality, efficiency and speed. Precision sectioning is now achievable for every technician, every single block and tissue type, as the Tissue-Tek AutoSection automatically aligns, trims and sections the blocks. It preserves precious tissue of re-cuts due to automated block alignment.


Staining – Tissue-Tek Prisma® Plus
Tissue-Tek Prisma® Plus instrument automatically stains tissues and cell smear samples on glass slides for microscopy, as part of histological studies and tests conducted in the fields of pathology. The instrument supports various types of staining such as H&E, Papanicolaou etc. This instrument is operated from the touch-panel. This display allows the operator to easily operate the instrument according to visual cues by touching the necessary keys displayed on the screen. Staining data can also be output from a PC by using a special compact flash card (CF card). Providing high throughput up to 530 slides per hour when loading 60 slides per run, 3 start-stations makes Tissue-Tek Prisma® Plus a workhorse for any lab.
Coverslipping – Tissue-Tek Film® Coverslipper
Tissue-Tek Film® Coverslipper, the only film cover slipper in the world. This Coverslipping Film is the 5th generation resin-coated plastic film that eliminates the need for cover glass and liquid mounting medium. It reduces coverslipper maintenance and enables fast coverslipping with a high throughput of 1080 slides per hour. No or negligible air bubbles compared with glass coverslips. It also helps in minimizing errors for digital pathology as it is free from excess mounting media and leaves almost no residue. There is no risk of glass breaking as well. Even during the incident of slide breakage the tissue is safely remains in the film.
Tissue-Tek Prisma® Plus & Tissue-Tek Film® integrated system is the gold standard in staining and film coverslipping. This reliable and flexible workhorse is the ultimate timesaver for any laboratory. Tissue-Tek Prisma® Plus & Tissue-Tek Film® guaranties true walk away capability and continuous confidence in performance and quality due to its unsurpassed system up-time.

SMART Automation
Pathologists, technicians and their laboratories are facing more and more challenges each day. With a growing population in size and age, a worrying increase in cancer cases globally is seen.
To overcome these challenges, SMART Automation is developed to increase productivity, with a faster turn-around time at the highest level of diagnostic accuracy.
30% increased productivity
67% reduction in turnaround time
No more backlogs
Ability to start diagnosing at any time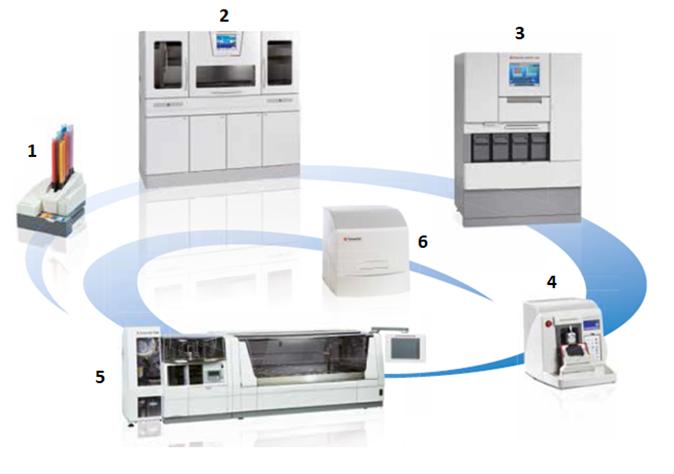 Tissue-Tek® AutoWrite® – Cassette printer
Tissue-Tek Xpress® x120 – Continuous Rapid Tissue Processor
Tissue-Tek AutoTEC® a120 & Tissue-Tek® Paraform® – Automated Embedding System and Sectionable Cassette System
Tissue-Tek AutoSection® – Automated Microtome
Tissue-Tek Prisma® Plus & Film® – Automated Slide Stainer & Coverslipper
VisionTek® – Live Digital Microscope